PLAYPR
Play and Performance Interfaces for Culture and Games
Project Leader
Project Co-leader
Lynn Hughes
Concordia University
Ron Wakkary
Simon Fraser University
The relationship between performance and content in digital media will be examined through case studies in game design, interactive museums, and cultural installations.
Research/creation will occur along three axes: spatial play, which considers the body's movement in physical space in relation to digital media, gestural play, which considers discrete movements of bodies in relation to screen-based media and interactive installations that raises questions of how the body and its gestural motion can affect the player's relationship to digital representations, and vocal/audio play, which considers voice as an important input channel in interfaces and explores vocality as a corporeal practice that enhances engagement and interactivity.
PLAYPR will integrate the analysis, evaluation and design of cultural and entertainment applications with the development of interfaces for play, performance, and storytelling.
ec(h)o-VUE
ec(h)o-VUE Museum Tangible Interfaces

Project Leader
2008
Ron Wakkary
Simon Fraser University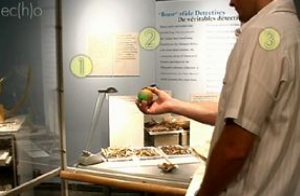 This research project focused on the ecologies of play, learning and interaction in museums.   The goals of this research was to build an adaptive museum guide for families that supported different learning and interaction styles, extensible group play and learning applications. The project is led by the Everyday Design Studio, SIAT, SFU in partnership with the Surrey Museum and Archives, Ubiquity Interactive and Carleton University. The ec(h)o-VUE project team's system, Kurio was awarded Gold Winner, Concepts Category, 12th Biennial Industrial Designers Society of America's 2009 Northwest Design Invitational (NWDI'09).
Read more about this project >
KURIO
Kurio: Social Engagement, Play and Learning for family Groups in Museums
Project Leader
2008
Ron Wakkary
Simon Fraser University
The Kurio project was conducted from April 2007 to September 2008 and was funded by a grant from Canadian Heritage's New Media Research and Development and Initiative program. The project involved researchers and stakeholders from a variety of disciplinary backgrounds, including interaction design, computer science, industrial design and museum studies.  Kurio explored how to address issues of social engagement, play and learning for family groups in museums. We see focusing on families as an important aspect in our study, as they are by far the most common visitor type to science, history, and natural history museums. Museums themselves are story spaces where visitors create and share their understandings through engaging with the designed environment.
Read more about this project >
Reflective Practice and Complexity in Design, 2007
This three-year research program (2004-2007) investigated the idea that everyone is a designer. The aim of the research was to describe everyday design in the home, identify the dynamics and who is involved?  Over the duration of the study conducted formal studies comparing the design activity and understanding of professionally trained designers and those not trained in design. We completed ethnographic studies on families in the home analyzing and describing everyday design patterns and artifacts.